Photos of My Classrooms
What's Here
Welcome to my collection of third grade classroom photos!  I've taught in a lot of different schools, and I've got photos of a classroom from each year beginning in 2003 (when I first got a digital camera and started this website) through 2009 (when I left the classroom to become an instructional coach and educational consultant.) So, take a look around, and enjoy my classroom pictures!
Classroom Photos After 2009
Classroom Photos 2009
Classroom Photos 2008
Classroom Photos 2007
Classroom Photos 2006
Classroom Photos 2005
Classroom Photos 2004
Classroom Photos 2003
Classroom Photos Before 2003
Preview Each Year's Classroom Pictures
After 2009
2009
2008
2007
2006
2005
2004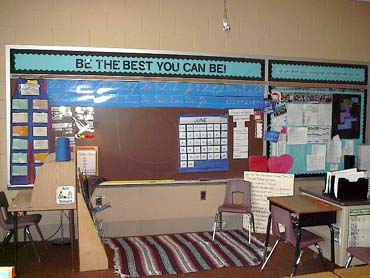 2003
Before 2003
Check Out Other Teachers' Classroom Photos
Want to see photos of Other Teachers' Rooms?  I've collected classroom pictures from educators in all different parts of the United States! Learn their tips for desk arrangement, organization, and more.
Please share YOUR classroom photos!
Would you like to have your pictures featured here? I'd love to add your classroom pics to the Other Teachers' Rooms page! Contact me via email with the link to your Flickr, Tumblr, Picassa, blog, Pinterest board, or even a public Facebook album! Don't worry about making sure everything looks perfect: we want to see REAL classrooms that are used by REAL students every day! International teachers–we'd especially love to see what your rooms look like!
Now What?
Get tips for decorating your space on the Creating a Cozy Classroom page
Check out the ideas for using your wall space on the Bulletin Board Solutions page
Learn how to set up your rug/carpet area on the Class Meetings page
Discover how to create workstations around your classroom on the Setting Up Centers/Stations page

My Favorite Classroom Tours on Pinterest
Follow Angela Watson's Teaching Ideas's board Classroom Tours on Pinterest.


The following two tabs change content below.
Latest posts by Angela Watson (see all)